What it's Like Living and Working on a Cruise Ship
Published April 5, 2012
Well, my current gig as the guitarist in the band known as The Wave on board the Norwegian Cruise Line Pride of America sailing around Hawaii is in its 6th week. So far, so good. There are lots of things going for it – I've got a lot of free time to explore the Hawaiian Islands and to try new things like snorkeling and stand up paddling; I've got lots of time to practice; I live rent free and eat at the buffet on the ship for free; And of course most importantly I'm doing what I love to do and have steady work. I'm finally paying off some debt that's been with me for a while, and once that's done with, will be able to save some money – not an easy thing for a working musician.

As far as the actual job goes – I play in one of the main dining rooms 3 nights a week - two 45 minute sets. We play jazz standards/The Great American Songbook material. There are some songs that are called out to play that I'm not familiar with and am sight reading (and sight soloing over them) right there on the gig. We're generally background music so it's not a high pressure situation. Monday is my busiest night - we play at a Captain's Cocktail party event (where repeat Norwegian passengers are invited to meet the officers of the ship), followed by a ballroom dancing set. After a break, we're back for a couple of more sets - a Glenn Miller tribute, and then 15 minutes later we magically transform into a 1950s rock n' roll band, performing at a sock hop. On Fridays, the band plays a sail away set by the pool, as the ship is leaving the island of Kauai - lots of Motown, a few reggae tunes, and a couple of classic rock crowd pleasers, like Brown Eyed Girl and Margaritaville. So I actually perform waaaaay less than I was originally told I would (see blog below).

As a member of the crew, there are some rules I need to follow. For example, I have to dress business casual when I'm in passenger areas. That's not so bad, but it is warm here, and I find myself changing my clothes from shorts into long pants a couple of times a day just so I can go to certain parts of the ship. Being a musician on the ship has some drawbacks socially, as there aren't many of us here. Some of the other departments, such as housekeeping and sanitation, have dozens or hundreds of people in them and a larger social network in their departments to draw from. By comparison, there are 14 musicians here, and I usually only see the 4 other guys in my band.

If you've ever taken a cruise before, you know the cabins on the ship are small. Now get this - almost everyone in the crew shares a room with one or two other people. Yeah, it's like that. Sharing a room can be a challenge, but at this point I've gotten used to it. My roommate and I have different enough schedules which also helps.

Overall, it's been a positive experience. It is a lifestyle choice I've made to be here, living and working like this, but it's pretty much the perfect situation for me for where I'm at right now.

Below are some photos of the cabin I called home for 4 months while on the Pride of America: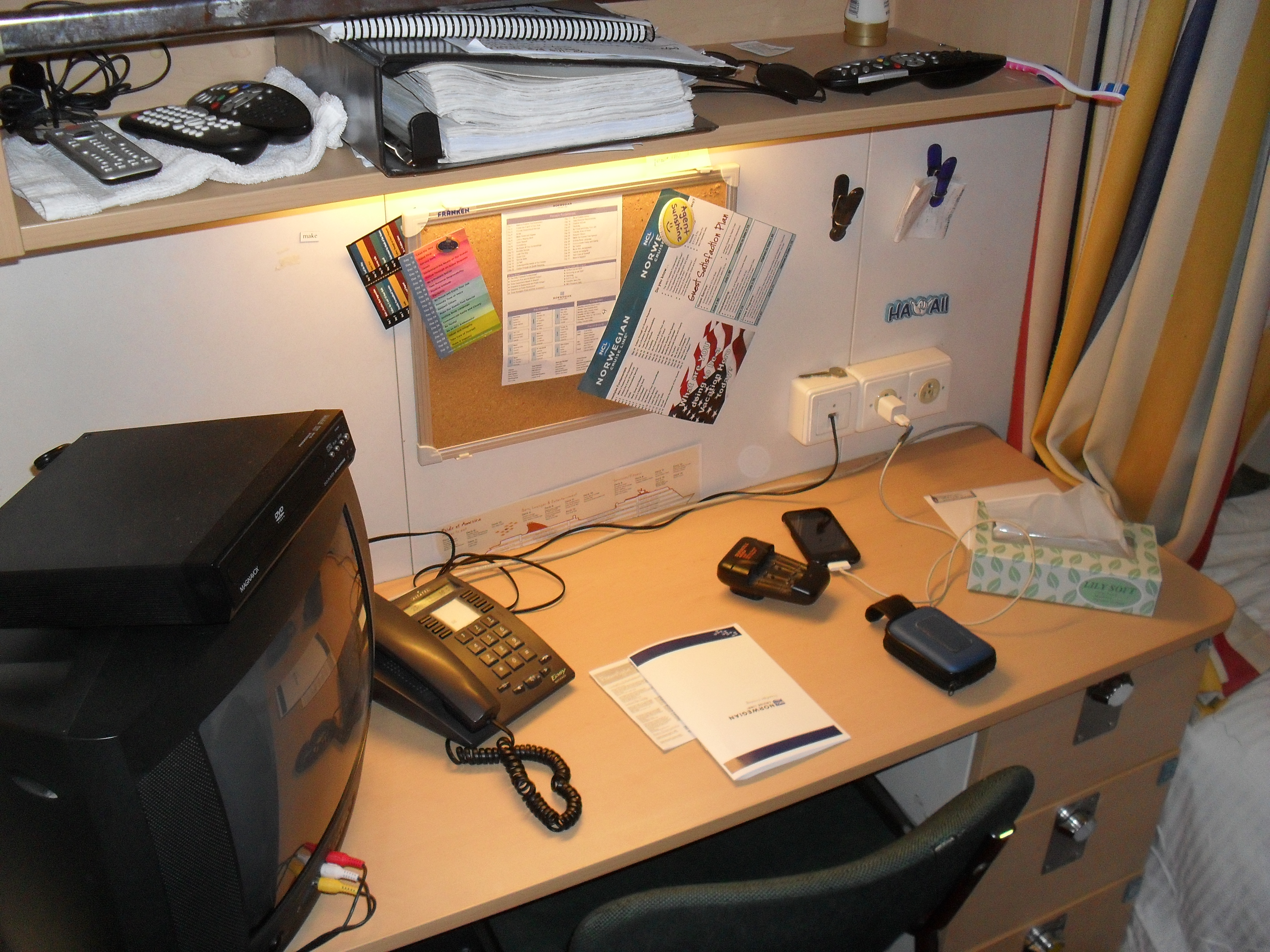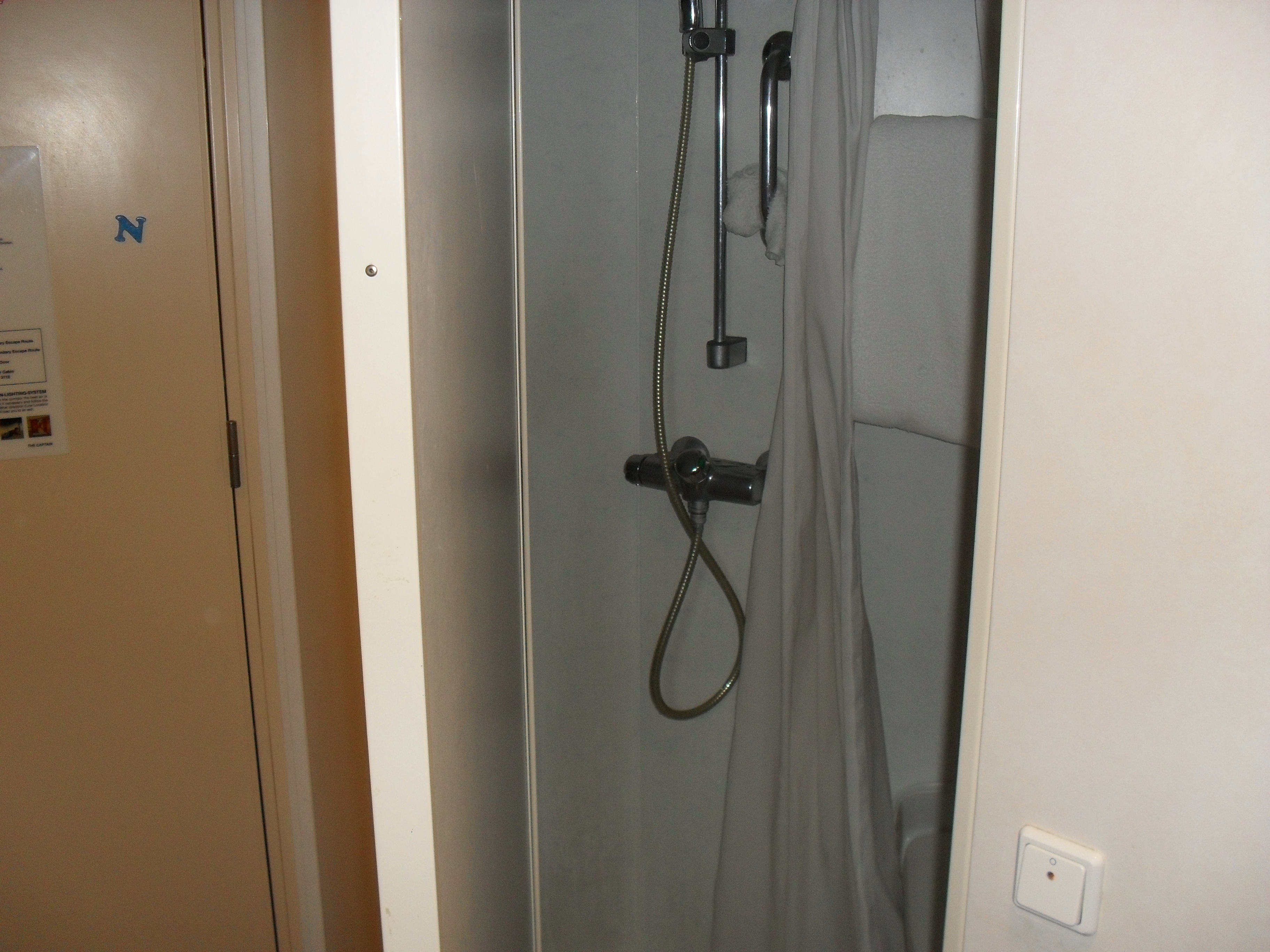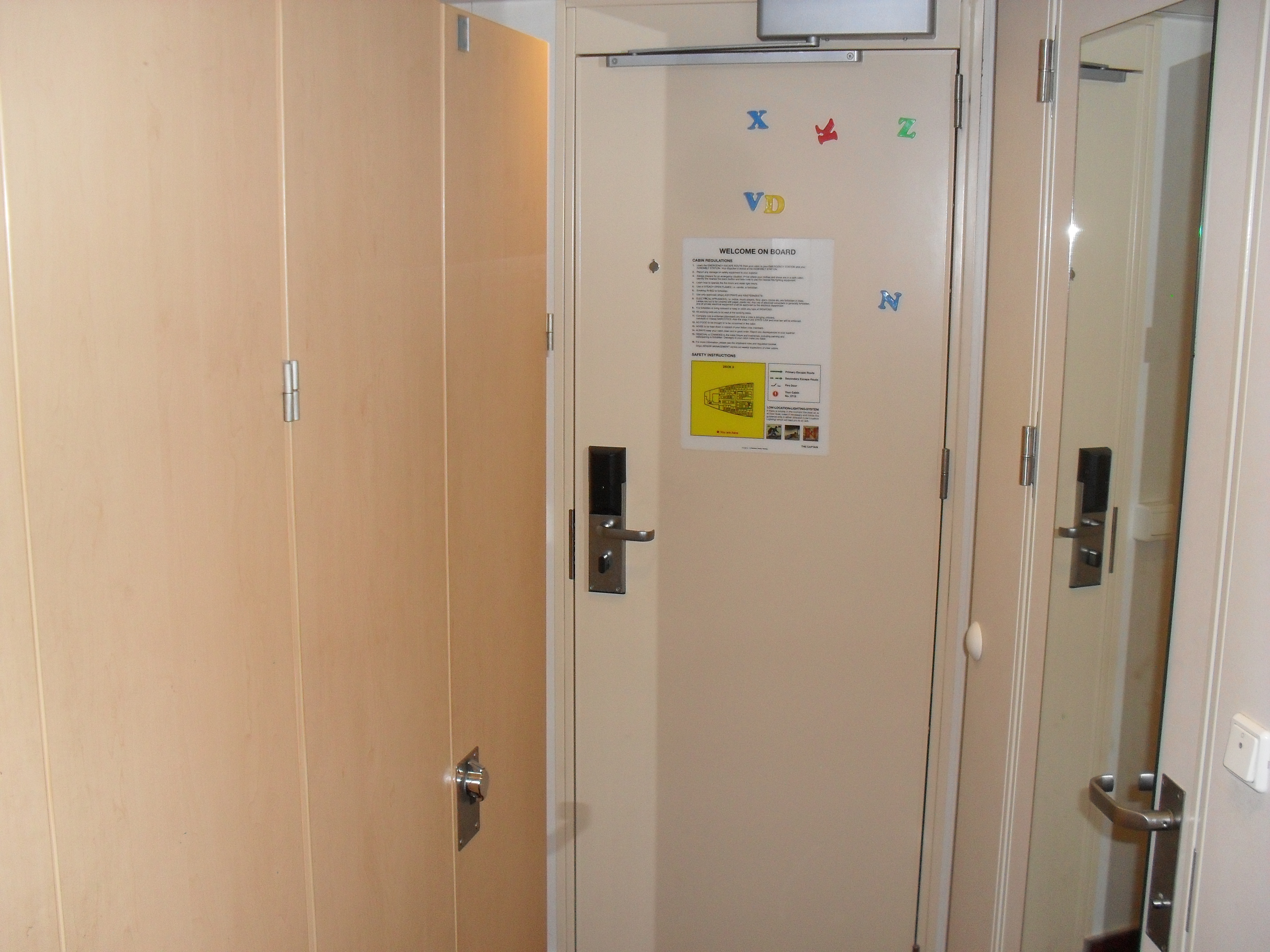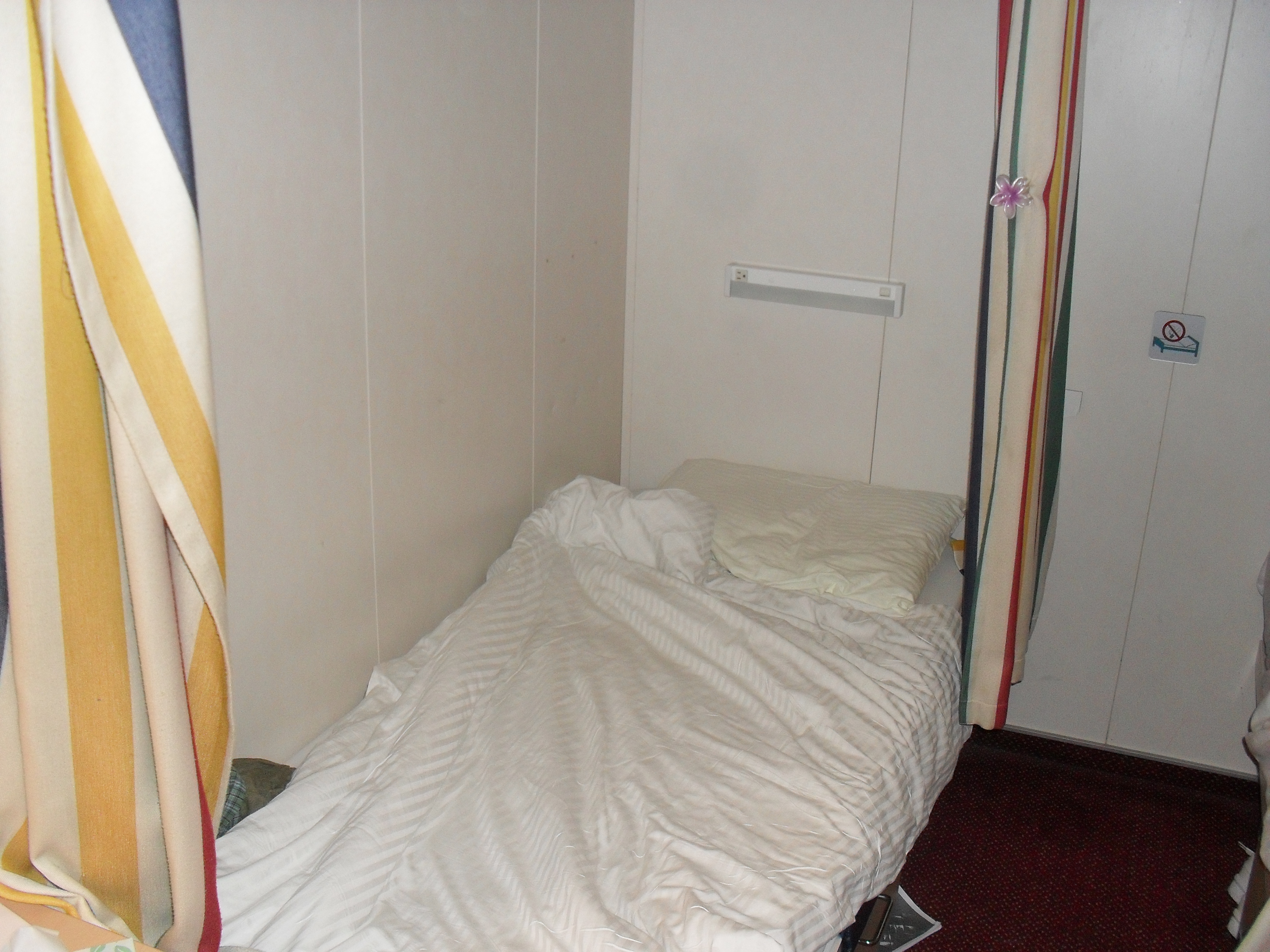 Hey Lance, tell me about your cruise ship in Hawaii party band gig!
Published January 2012

Glad you asked. Because up 'til now, I haven't really had all the answers. There was so much paperwork to submit to get on this freakin' boat that once that part was done with, I plum forgot to get details about the who, what, and when of things. Below are the most frequently asked questions I've gotten regarding my 4 month contract playing guitar in the "Party Band" on board Norwegian Cruise Lines Pride of America ship in Hawaii. My first day will be February 18, 2012.

FAQ:
What are the songs you'll be performing?
It runs the gamut from 1950's rock (like Johnny B, Goode, Blue Suede Shoes), to 19 70's party pop (I Will Survive, Brick House), to what they refer to as the 'Sailaway – Pool Set' songs (Brown Eyed Girl, Mustang Sally). For a full song list, click here.
How often will you be performing?
Generally 4 sets per day, 7 days a week. Most of the performing is at night, with a few daytime rehearsals each cruise. The band plays theme nights, some jazz sets, and backs up guest entertainers/cabaret singers.
How many people are in the band?
Its a 5 piece party band (piano, guitar, drums, sax, bass).
Where are you sailing to?
The ship sails to several Hawaiian islands, they are Honolulu, Maui (Kahului), Hilo, Kona, and Kauai.
Will you be able to get off the ship and see Hawaii?
Yes. I haven't been given any details about how much time I'll be able to go ashore, but I can make an educated guess. I played for Carnival Cruise Lines in August 1999. If memory serves, whenever the ship was docked and the passengers disembarked to see the sights, us musicians could get off too. Since we're there to entertain the passengers, there's no need for us to be on the ship if they're not.
I believe the typical routine would entail an overnight sail, arrive at the first port at 8 am, get off the ship when docked, see the city/town/beach, get back on the ship around 4 pm, play with the band for several hours, end the evening, ship sails overnight to the next city/town/beach, arrives at 8 am, get off the ship when docked, and do it all over again.
And by the far the most frequently asked question: Can you get me a discount/free cruise on that ship?
I haven't asked yet, I figure it's better to wait until I'm actually there in person first before asking for stuff like that. But from what I remember about Carnival's policy, I would be able to get some kind of special price rate fare after working for the company for 6 months. Can't remember if that offer was for family members only or what, but there was something.
That gives you an idea of what it'll be like for me. When I tell people that I begin a four month contract in February, playing guitar in a party band on a Norwegian Cruise Line ship in Hawaii, the typical reaction is a big smile, like I've told them the best thing they've heard all day. But wherever it is that their imagination takes them when I tell them this, I doubt the reality of my situation will be as glamorous as it sounds. But no doubt about it, I am PSYCHED to be doing this. I can't wait!
Got a question or comment? Leave it here:
Have you ever wanted to just travel and play the music you love?
The last few weeks have been a proverbial roller coaster ride of ups and downs, changed perspectives, and dealing with the unexpected. There have been some emotional letdowns, and some re-defining of what I'm working towards. Let me 'splain.
Over the past few months I've been auditioning for talent agencies that place musicians on cruise lines. Turns out the third time's a charm, as the third agency I auditioned for offered me two contracts, setting off what would become a tremendous amount of hustle on my part to prepare for the upcoming cruises. A seemingly endless amount of forms to fill out, among the documentation necessary to submit: criminal background check from the police, a notarized signature, medical exam (including chest x-ray, urinalysis, drug screening, hepatitis panel, complete blood count, and others), driving record, and a couple of Homeland Security clearances a Merchant Mariner Card and another called a TWIC card. In the end, the paperwork didn't come through properly for the first cruise I was scheduled to start on 11/11/11. So after budgeting time for a 2 month contract, my ship sailed without me, and I'm in the Boston area at the moment rather than in the Caribbean.
Being here in Boston now is a homecoming for me. I lived here for 16 years. My time spent in Portland, OR was very enjoyable, and I really hustled to make an impact. All the effort I did in Portland was stuff I could have done here in Boston, but
didn't
- I was earning a living working in an office when I lived in Boston, and I just
wasn't
as motivated to take that kind of action. With the Caribbean contract falling through and this new found time on my hands now,
I'm
eager to see what progress I can make here now that
I'm
back and able to put in the kind of effort I did on the west coast. I have another cruise ship contract lined up to begin in February, giving me three months to do my thing.
The nice thing about a cruise ship job is that it's locked in money. As a freeLANCEr there aren't any guarantees. It's where I'm at though. I just have to hustle. It's just gonna come down to how hard I try. I'm definitely happier now, despite the first cruise line
contract not working out. The money notwithstanding, comparing my life now to where I was one year ago, I feel like I'm doing what I'm supposed to be doing and getting more satisfaction out of my work. I'm extremely thankful for the generosity of my friends who have hosted me in their homes as I pursue this gypsy lifestyle, and endeavor to develop my location independent-ness.
I moved to Portland as the first step in pursuing my Ph. D in music, with the endgame being to acquire a position as a music professor. The realities of needing to earn a living kicked in, however, which lead me to put that plan on hold and audition for talent agencies. Despite all that's happened, I have faith that, as a friend put it, in the bigger picture this is "all part of the plan."